Downlights.co.uk is a bite sized lighting website devoted to the sale of downlights and LED lamps. As an experienced distributor of downlights, we're fully aware that choosing the best lighting products for the job can be an overwhelming task as there are so many options to choose from. Options ranging from cheap imported downlights to high-quality, branded ones. This website has been designed with the customer in mind. We've purposely narrowed down the downlights and lamps we feature so you can be sure on the quality, no matter which option you choose.
We pride ourselves on offering premium quality, reliable products that we have the utmost confidence in. From our extensive knowledge of LED lighting we've chosen only the best possible products which we have sold over an extended period of time. Having evolved into perfection, these products require little or no maintenance. Fit and forget!
Because we're part of the Lighting Industry Federation (LIF), we ensure that high standards are always maintained. This means that you can trust our products and get peace of mind that LEDs bought from us will last for a very long time (20+ years). Can you really rely on products from unknown, un-tested sources that maybe here today but gone tomorrow?
All of the products sold on this website are covered by a 1 year minimum guarantee. Guarantee periods for LEDs used to be longer but as the price has dropped considerably over the years, so has the guarantee time. Some products are covered by even longer guarantees; the Philips Master LED range which has recently had its guarantee increased to 5 years. The Ansell Icage downlights are covered by a lifetime guarantee. If you've ever wondered why some manufacturers offer longer guarantees than others; it's because they have more confidence in their products. They know they will not fail because they are tried and tested. We only issue these guarantees with lighting products that we truly believe in, products we would install in our own homes.
Our aim is to supply high quality, branded downlights, LED lamps and LED-compatible dimmer switches at competitive prices. We buy all of our products in bulk; this allows us to pass the savings on to you and also means that goods are available from stock, ensuring your order arrives quickly. Our website has live stock levels which allows you to choose something that is readily available for those urgent projects.
Providing a first class customer and delivery service is paramount to us. We want to get your order to you fast without any dramas. No matter how great a business thinks it is, it's the customer who has the final say. This is why we have achieved and maintained a gold standard in our review ratings for many years.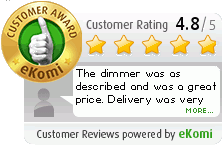 Feel free to contact us to discuss your project in further detail on tel: 01706 868343 or by email at: [email protected]
Downlights.co.uk T/A
Expert Electrical Supplies Ltd
Unit 4A Buckley Road Ind Est
Buckley Road
Rochdale
Lancs
OL12 9EF
Tel: 01706 868343
Fax: 01706 860044
Company No: 05147452
VAT No: 846535210