Can I put Loft Insulation over Downlights?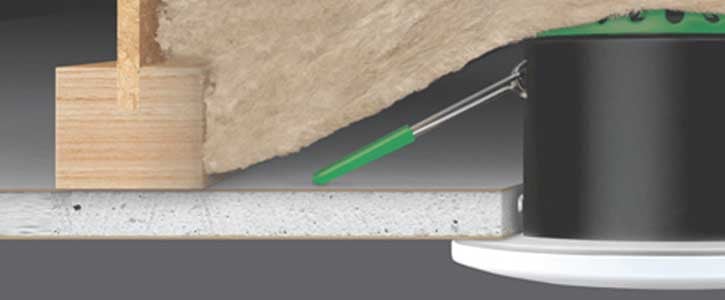 ---
A properly insulated loft can save you 25% in your heating costs. The thermal insulation acts like a hot for your home as it helps prevents the warm air from getting pulled into the drafty and cold loft space.
When you're installing recessed downlights in your ceilng, it creates a challenge as you shouldn't cut around thermal insulation. Cutting around thermal insulation was a standard practice in the early days of recessed downlight installations as it was your only option. If you do cut into it your home or building won't be as energy efficient because valuable heat will escape through the hole of the downlight. A downlight can act like a chimney and draw in warm, rising air from a room, up into the cold space above, the effect would be considerably worse in upper floors containing lofts.
This poses the question: Can I put loft insulation over downlights? The answer to this used be no, but with the arrival of the loft lid from Loft Leg you can now have an energy efficient and safe lighting installation the meets the latest Building Regulations. The loft lid creates a barrier between the downlight and the thermal insulation. The insulation can then be laid over the loft lid and packed to the sides if necessary.
Loft caps or loft lids for downlights can be used with either fire rated or non fire rated downlights. When used with a non fire rated downlight the loft lid version doesn't provide fire protection, so they're better suited with fire rated downlights. Fire rated downlights are recommended in homes, more information about whether you need to have fire rated downlights is available here.
The images below show the loft lid in action:
Alternatively if you're starting a brand new lighting installation you could install insulation coverable downlights such as the Aurora EFD Pro range. The Aurora EFD Pro are fire rated GU10 downlights that have been specially designed to allow you to cover them with insulation when a GU10 LED is fitted (as opposed to a GU10 halogen, which are now banned anyway).
Or if you would prefer an integrated LED downlight then we now have a selection available that can be covered in insulation. Including the JCC V50 (shown below) which is insulation covereable as standard and has a compact design.
Other brands include the Aurora M series with the MPRO or the Halers H2 Lite T from Collingwood Lighting. View all of our insulation coverable downlights.
When you're covering downlights with insulation it is important not to pack the insulation too close around the sides. A gap of around 75mm is usually recommended but can differ from each product. This provides sufficient airflow to the LED and will allow it to ventilate.
---
In late 2014 Hellermann Tyton introduced a universal type of insulation cover cap called the SpotClip. This product can be used with a wider selection of downlights and is available in 3 sizes. This cover cap offers a more cost effective solution than the loft lid but also doesn't provide any fire protection. It can be a great product to be used with certain integrated LED downlights that aren't insulation covereable as standard.
Energy Saving Tip
If you are insulating your loft make sure you cover it with up to 270mm of thermal insulation and while you're doing it make sure you insulate your rafters. Insulating your rafters with give you a secondary level of protection and make your home feel warm and snug. Once your loft is fully insulated you'll notice straight away that you don't need to have your heating on as high as your house stays warmer. You'll get a fast payback time on this and wonder why you didn't do it sooner. More information about this subject can be found on the Energy Saving Trust website.