Manufacturer of premium quality, low energy lighting products including recessed LED downlights.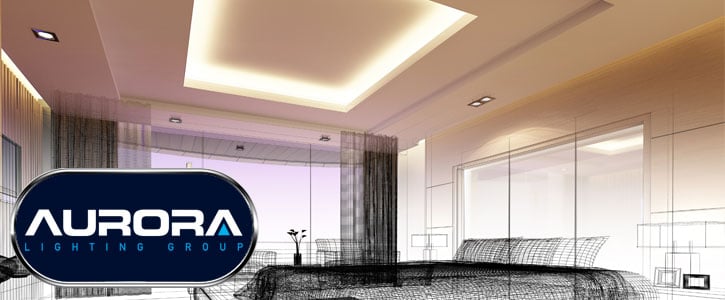 Producing market leading products such as the M-Pro, EFD-Pro insulation coverable and R Series. Aurora downlights have gained a strong reputation for superior quality and reliability but in recent years they now set the pace in terms of technological advances.
Why Choose Aurora Downlights?
The Aurora I9 once became the benchmark for the integrated, this fire rated LED downlight has now been superseded by the M series, with the M-Pro model which has many standout features.
These downlights contain DOB (Driver On-Board) technology which means the LED driver is built into the chip and contains high voltage LEDs. The LED driver is often the weakest component in a downlight and is often the first to fail. As the M-Pro doesn't have a separate one it's backed with a 5 year guarantee and has a longer life expectancy of 40,000 hours!
Aurora R Series
Newer models for 2022 include the R Series with options for colour temperature switching and wattage switching. The ability to switch between different colour temperatures provides more flexibility and avoids having to make the often difficult decision about which colour temperature to choose. The wattage switching version has 3 different lumen outputs to choose from. Allowing you to maintain a lower level of light or set it to maximum. This standout product offering has all of the mod cons and are competitively priced, especially for such an advanced, premium grade, branded product.
Insulation Coverable Lighting
Another innovation by Aurora is the insulation coverable range of downlights which started off with the Sola fire rated range (now superseded by the EFD Pro series). They are fitted with an IC (insulation cover) cap, or ICC would have been a more suitable abbreviation. The ICC allows continuous thermal insulation to be laid over them. No longer do you have to cut around the insulation or fit an additional loft cap or support box.
The combination of the driver-less M-Pro, with flip down driver design also allows it to be covered with thermal insulation while maintaining its compact physical size.
Aurora Lighting Stockist
We stock only the most trusted lighting brands on our website so you can shop for the Aurora downlights range with confidence and convenience. Aurora Lighting are a leading UK based lighting company and over the last few years, they've established themselves as a brand that you can trust. If you would like further information regarding our Aurora downlights range, please don't hesitate to ask.
Shop Online for Aurora LED Downlights Today
Shop online with us for state of the art lighting and take advantage of our stress free delivery service. Place an order online at Downlights.co.uk and save time and money regardless of your lighting requirements.
As one of the UK's biggest Aurora Lighting stockists you can always come and visit us, we're based in Rochdale, Lancs. We're more than happy to give you a demonstration or talk you through some of the difficult purchasing decisions. We can guide you through the selection process and help you to make an informed purchasing decision.
Aurora Lighting have become our go-to brand for downlights and LED lighting products. They offer technologically advanced downlights and LED lights that are highly reliable.
The latest range of Aurora Lighting products is the AOne Smart lighting system. This easy to install and cost effective home automation system allows you to control your lights from your smart phone. The AOne home automation system is expanding rapidly, all of the latest products can be found in the brochure here.
More Aurora Lights
Not just limited to recessed lighting, Aurora also produce a wide selection of light fixtures and lamps for the commercial and domestic sectors. Aurora lights are a great option for the consumer who seeks a reliable, well made product at an affordable price. A well established brand in the industry that's highly rated by electricians.