Bathroom Lighting Ideas & Tips
Achieving the right mixture of aesthetics and safety is essential for any lighting installation. Choosing and installing bathroom lighting fixtures requires a bit more thought than other rooms as it contains water. Here are some rules, inspiration and general guidance to consider when illuminating your bathroom.
The definition of a bathroom is a location that contains a bath or shower, rooms with just a sink or toilet are not classed as bathrooms. No matter whether you plan to install recessed downlights or surface spotlights in your bathroom you need to follow the rules regarding bathroom zones.
Bathroom Zones Explained (in short)
Bathrooms are split into 3 zones which are:
Zone 0 - The area directly within a bath tub or shower. A minimum rating of IP68 and 12V SELV (Safety Extra Low Voltage) is required.
Zone 1 - The area directly above a bath and inside a shower cubicle, up to 2.25M in height. A minimum rating of IP44 is required.
Zone 2 - Very similar to zone 1, the area just outside of the bathroom and shower zone. A minimum rating of IP44 is required.
We have a more in-depth explanation about bathroom zones and IP ratings.
If you're installing lights over a bath, shower or sink they need to be rated at IP44 or above which is splash proof. This is often referred to as IPX4, the X is for the dust rating which is not classed as important for these purposes so is given the X to show it's not relevant. The second digit which is the 4 denotes it's resistance to water. The drawing at the bottom of the page shows each bathroom zone and the distances that need to be maintained from the bath, sink and shower area.
Some areas of a bathroom are not classed as a zone so you don't necessarily have to install IP rated lights everywhere. If you're installing GU10 LEDs its worth considering protecting them from the moisture & steam that's generated and going with water resistant lights throughout. They will also match each other, look much better and only cost a little bit extra. If you plan on installing integrated LED downlights most of them are IP65 rated as standard anyway.
There is often a lot of confusion about bathroom zones, some electrical contractors and lighting manufacturers will tell you conflicting information; mainly that recessed downlights need to be rated at IP65. This is incorrect as IP44 is water resistant enough for zones 1 and 2. This is unless you plan on cleaning your ceiling with a power wash. A rating of IP44 is the minimum requirement, which is splash proof and sufficient. It also makes you wonder; why would some of the UK's leading lighting manufacturers like Ansell Lighting produce bathroom downlights that are only IP44 to begin with? Wouldn't they be illegal? And did you know that most electric showers are rated at IP44 so why would a recessed downlight need to be more water resistant than a shower that is going to be positioned in the heart of zone 1?
Colour Temperatures for Bathrooms
Choosing the right colour temperature is important for any room, its your room and your choice. Don't be swayed by the opinions of others and go with the colour temperature you like and compliments your room. The most popular colour temperature choice for bathrooms is cool white 4000K which offers a clean and ultra white lighting effect; but would you want this effect when you're having a relaxing bath? Here's considerations about the warmest of warm white and the coldest of cold white.
Dim to Warm – Setting a Relaxing Ambience
When you dim the brightness level of a halogen or incandescent light bulb you will notice that colour temperature starts to appear warmer the dimmer it becomes. When you dim an LED the colour temperature remains consistent, dimming it only dims the brightness. In bathrooms and especially when you're bathing most people like to produce a relaxing candlelight effect. This can be done either by using ordinary wax candles which would appear like an ultra warm 2200K. Or by installing LEDs that have this setting built into them.
Philips Lighting developed this technology back in 2011 and named it 'Dimtone' which is featured in their Master Value 4.9W GU10 LED, LED candle bulbs and light bulbs. Replicating the dimming effects of a halogen it produces a more cosy lighting ambiance for your room.
Cold White
The opposite end of the colour temperature spectrum is to go with a cleaner, cool white approach, this is often refereed to as cold white or neutral white. By installing 4000K LEDs such as the Halers H2 Pro or adjustable H4 Pro by Collingwood Lighting, shown in these images you can achieve a more modern appearance but it can also make a room feel clinical and sterile. Cool white is around 5% brighter than warm white as it has less phosphor over the LED chip, although due to the clearer light appearance it will appear even brighter.
Whichever option you decide to go for I'd recommend getting every light in the room to match as closley as possible. If you were to have a mixture of colour temperatures in the same room it won't look right and the contrast of colour temperatures will really stand out. This contrast can also happen when you've got one colour temperature in one room and another in an adjoining room. You may have selected warm white for the hallway and cool white for the bathroom for example.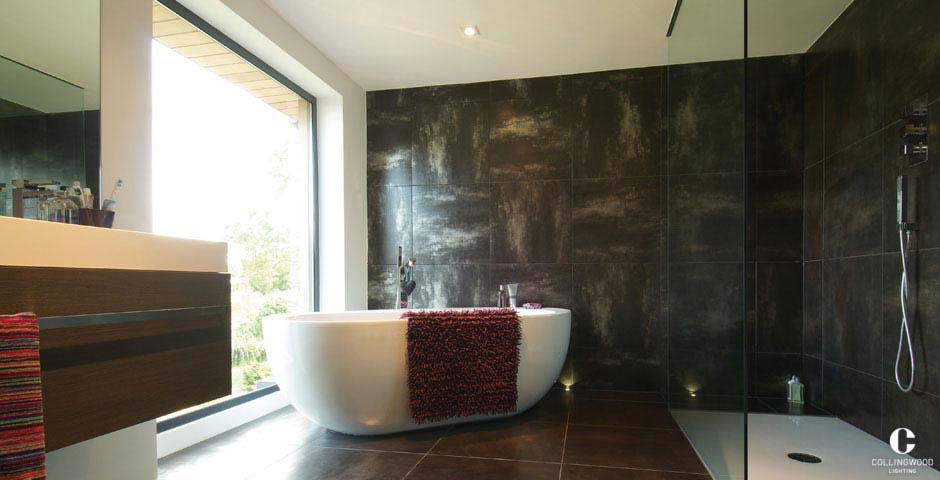 Which Finish?
I'm not a fan of polished chrome downlights or switches as I prefer the more contemporary feel that brushed steel offers. On my own recent bathroom project I discovered that it was very difficult to get brushed chrome taps, fans and other bathroom accessories. As I wanted everything to match I decided to go with polished chrome downlights, making all of the finishes match looked much better than introducing a new finish into the design. We also have a dedicated article about downlight finishes which includes some swatches to help you compare.
Alternatively white or matt white downlights blend-in, less noticeably into a ceiling space. They don't stand out as much especially in the daytime when the lights aren't in use. They make a ceiling look cleaner and less cluttered with metallic light fittings.
Just like with recessed downlights, if you're placing spotlights inside zones 1 or 2 they will also need to be rated at IP44 or above. The Forum Scorpius (shown below) can be placed in bathroom zones 1 or 2. However, because they're not recessed and can be touched with wet hands Astro Lighting only recommends them for use in zone 2. A standard ceiling height is 2.4 metres, zone 1 and 2 ends at 2.25 metres so there shouldn't be a need for a zone 1 rated spotlight. A surface mounted bathroom spotlight wouldn't be appropriate above a shower or bath anyway, it would look out of place. Even a bathroom downlight or slim LED bulkhead would be a better option.
We have a large selection of IP44 rated LED spotlights on offer with integrated LEDs or replaceable GU10 lamp versions.
Adjustable Bathroom Downlights
Unlike fixed downlights which direct the light directly down in a 3D cone shaped beam, adjustable downlights (known as gimbal) allow you to direct the angle of light. Adjustable downlights can also be used to off-set the angle of a vaulted ceiling.
We offer a selection of downlights that are both adjustable and IP65 rated that are ideal for use in this environment. Our most popular bathroom GU10 downlight shown below is non fire rated and manufactured by Forum Lighting. We also have a selection of integrated LED downlights that are also fire rated such as the H4 Lite from Collingwood Lighting which also shown below.
Fire Rated & Insulation Coverable
As bathrooms are mainly located in homes, they are classed as domestic installations, downlights in homes should be fire rated. Once you cut a hole into your ceiling you need to restore it's original fire rating, otherwise in the event of a fire, the fire may spread through the downlighter holes and onto ceiling joists. We have further information about fire rated downlights.
Whether you choose to go for fire rated downlights or not, your bathroom will most likely be situated on an upper floor below your loft space. Loft spaces are cold and require thermal insulation. If you cut around the insulation it renders it almost useless and warm air will escape through the downlight holes. This is why we also have dedicated insulation coverable downlights or we have accessories such as the loft lid that allow other downlights to be covered with insulation. The Collingwood H4 Lite adjustable and H2 Lite T fixed downlight are insulation coverable as standard. If you plan to cover your downlights with thermal insulation, just buy insulation coverable downlights to begin with.
Bathroom Dimmer Switches
UK Wiring Regulations don't allow mains powered switches and power sockets to be installed inside a bathroom unless they are 3 metres away from a bath or shower. More information about this can be found on the Electrical Safety First website. This is quite a long distance, most bathrooms are barely 3 metres wide to begin with. In a bathroom all mains voltage circuits should be protected by a residual circuit device (RCD).
If you want a bathroom dimmer switch you could install a wireless dimmer switch. This can now be done very easily and is now affordable thanks to the Ener-J kinetic switch. Kinetic switches don't even need battery, they're powered from action of someone switching the switch. You can simply stick or screw the switch onto the wall and it doesn't need any wires. You'll also need a receiver which is wired into the lighting circuit in the ceiling void. The wireless dimmer switch sends a radio frequency (RF) signal to the receiver which switches or dims the lights. You can also have Wi-Fi receivers within the Ener-J series for smartphone control or Alexa voice activated dimming.
Bathroom Fixtures & Project Costs
If you're planning a totally new bathroom overhaul and want to plan your budget this interesting article & explains how much a new bathroom can cost. It includes baths, showers, tiles and more which can really help you budget for your project.
Summary
As long as you follow the rules and Wiring Regulations there are no right or wrong choices. Although it's your bathroom and your choice, it is worth consulting with your electrician first as sometimes no matter what evidence you show them they will only install what they know to be safe as they're ultimately responsible if anything goes wrong. If you want to create a warmer, relaxing setting go with a warmer white colour temperature and if you want a more modern, cleaner look choose cool white.
If you really can't choose which colour temperature you want, why not select a colour temperature adjustable downlight. These products allow you to switch between colour temperatures whenever you like. Some are fitted with a small switch, located either conveniently below the bezel or inconveniently behind it. Some can be switched with a wall switch or remote control such as the Centorio by Ricoman. Or the popular JCC V50 which has a small CCT conveniently located behind the bezel which provides easy access for frequent switching. Most CCT switching downlights have the switch located on the back of the downlight which means you have to pull the entire downlight and driver out from the ceiling whenever you want to switch it. This is a bit of a design flaw if you want to switch colours regularly.